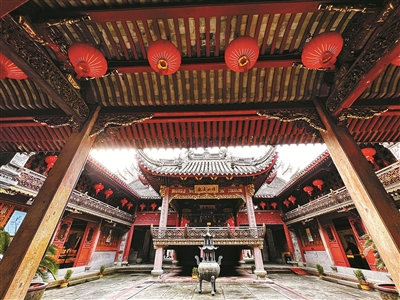 Qing'an Guild Hall. /慶安會館。 [Photo by Tang Yan] 唐嚴攝
  By Xu Zhuowei
  Qing'an Guild Hall, built in the Qing Dynasty, is located on the east bank of Ningbo's Yong River and was also known as the Yongdong Tianhou Palace (East Ningbo's Heavenly Queen Palace). It is one of China's major historical and cultural sites protected at the national level, a landmark of Ningbo, and an important legacy of the Ningbo section of China's Grand Canal.
  慶安會館位于寧波三江口的甬江東岸,又稱"甬東天后宮",是清代古建筑。它被列為全國重點文保單位,是寧波港口城市的標志性建筑,也是中國大運河(寧波段)的重要文化遺存。
  Qing'an Guild Hall was built with donations from Ningbo ship merchants who did business in the Yellow Sea. It was a hall for merchants and residents to worship Mazu (the sea god venerated by China's coastal communities), a place for business gatherings, and a performance venue. Now it has been rebuilt into the first museum of maritime folk customs in China.
  慶安會館由清時甬埠北洋船商捐資創建,是商賈、民眾祭祀天后媽祖(中國沿海百姓崇拜的海神)的殿堂和行業議事聚會的場所,現已改建為全國首家海事民俗博物館。
  Qing'an Guild Hall witnessed the development of Ningbo's early international trade and shipping; it is also evidence of Mazu worship's presence in Ningbo, a port city with a community of active merchant mariners in the maritime sector. Shipping guild members who worshiped Mazu and wanted to make business connections would take part in the Guild Hall's activities. The establishment of the Guild Hall contributed greatly to the development of Ningbo's shipping industry at that time.
  慶安會館見證了寧波早期對外貿易史、海外航運史,也是媽祖文化的物證。在寧波這座港口城市,舶商們熱衷投入沿海貿易,有媽祖信仰兼經濟目的的行會成員加盟到會館這一載體中來。會館的建立也為當時寧波航運事業的發展作出了重大貢獻。