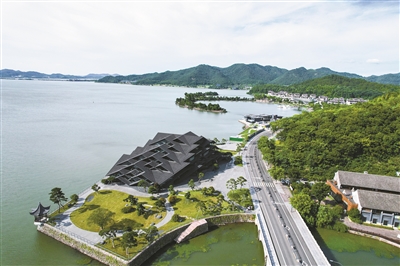 Hanling Museum of Fine Arts. /韓嶺美術館。[Photo by Chen Jiesheng]陳結生攝
  By Jin Lu
  The Hanling Museum of Fine Arts, completed in June 2022, is designed by Kengo Kuma, an internationally-renowned architect.
  韓嶺美術館由國際著名的建筑設計大師隈研吾設計,于今年6月通過竣工驗收。
  This is an art museum with Chinese-style gardens, far from the bustling city, boasting an air of tranquility with its elegant pine trees and plum blossoms.
  這是一座懷擁園林的美術館,獨立于喧嚷街市之外,安謐于松風梅香之間。
  The design of the building symbolizes Hanling Village, Dongqian Lake and the surrounding mountains. Through the windows, visitors can enjoy the view of Dongqian Lake, the rolling hills, the spectacular sunsets, and the outline of the pine forests.
  它將百里湖山安置進美術館層疊的窗戶里,巡游其中的人們從任何角度都能臥游山水,伴著日影西移,看盡松林禪境。
  The architecture consists of 155 angled facades and 1,000 steel beams of different sizes.
  建筑的外部空間造型多樣,155個獨立屋面由多達1000多件且非相同尺寸的鋼梁組裝而成。
  There is a pavilion in the garden which is a faithful reconstruction of the original Hanling Pavilion in the Song Dynasty.
  園林中有一座韓嶺亭,其雛形為宋代的亭子。
  Each plant in the garden has a distinctive look. Though each has its unique figure, they are all at one with the landscape, forming a poetic scene.
  每一株樹木都有它自己的特點,造型百態,與山河湖海共同呼吸,形成一幅詩意的畫卷。
  The Hanling Museum of Fine Arts is an elegant cultural landmark. Though its appearance is futuristic, it honors the local history through traditional roof designs.
  韓嶺美術館也是一個特別的文化符號,它用建筑結構擁抱了未來,用疊瓦傳承了歷史。
  In the future, the Museum will function as Ningbo's "reception room" for visitors.
  未來,韓嶺美術館將被賦予"城市會客廳"的功能。